Starter Motors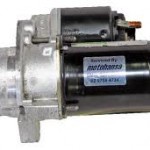 Starter Motors are electrical motors used to wind the engine over until the ignition and fuel systems kick in to get the engine running. They come in many shapes and sizes but are all generally repairable. We have access to all the necessary parts and equipment to service/repair any vehicle starter motor from cars to jet skis and motorcycles to commercial vehicles.
Starter Motors are the heaviest users of current on a vehicle and are prone to failing in extremely hot or cold conditions. One of the biggest causes of premature starter motor failure is cranking the starter motor with a flat battery.
For a price to repair your starter motor give us a call.


If you are unsure whether your starter motor is faulty call in and see us for a free appraisal.